Over the years guys have watched the James Bond films with a shade of envy. What's not to like? An action hero dishing out justice, remaining super-cool, while saving the world.
So far, there have been 26 Bond films based on Ian Fleming's novels, with many having passing referenes to men's swimwear. The most famous scene, from Casino Royale, had Daniel Craig walking out of the ocean with a tight pair of trunks. In Skyfall, again with Daniel Craig, a pool scene had 007 sporting a pair of Orlebar Brown "Sky" Setter's, which helped elevate the brand. Now you can relive some of the classic films with a pair of shorts as part of the limited Orlebar Brown x 007 capsule collection.
The collection is being released in the Bulldog style, the most popular mid-leg short, and will feature prints from Dr. No, Thunderball, You Only Live Twice and Live and Let Die.
All four shorts use imagery from posters created to promote each film. The 'Dr. No' features the iconic beach scene featuring Sean Connery. The 'Thunderball' shorts feature Sean Connery's underwater action scenes. For 'You Only Live Twice', the shorts show James Bond piloting the autogyro while being chased by Spectre helicopters. Finally, for 'Live and Let Die' the shorts feature the film's most memorable chase scene which shows Bond using a speedboat to evade Dr. Kananga and his men. Funnily enough, the world record for speedboat jumps was accidentally set during this scene with a jump of 110 feet.
Introducing the four shorts from the capsule collection: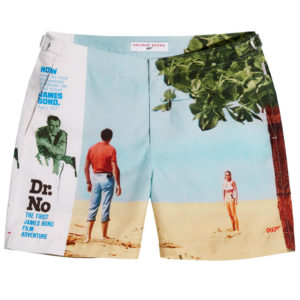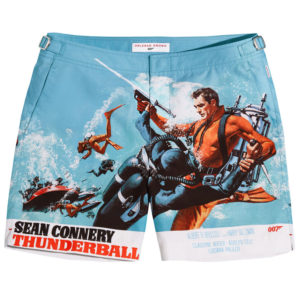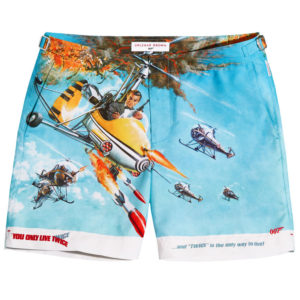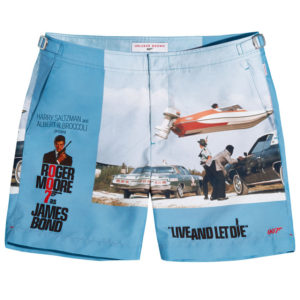 Al four shorts are available now in limited numbers. Visit
Orlebar Brown 
 to order your pair!